This year, the march of Okanagan will take place Saturday, June 8, 2019 - 12:00 to 14:30
Place and hour of appointement: Downtown Kelowna. City Park: Spirit of Sail monument (foot of Bernard Ave near the north entrance to City Park) at 12h00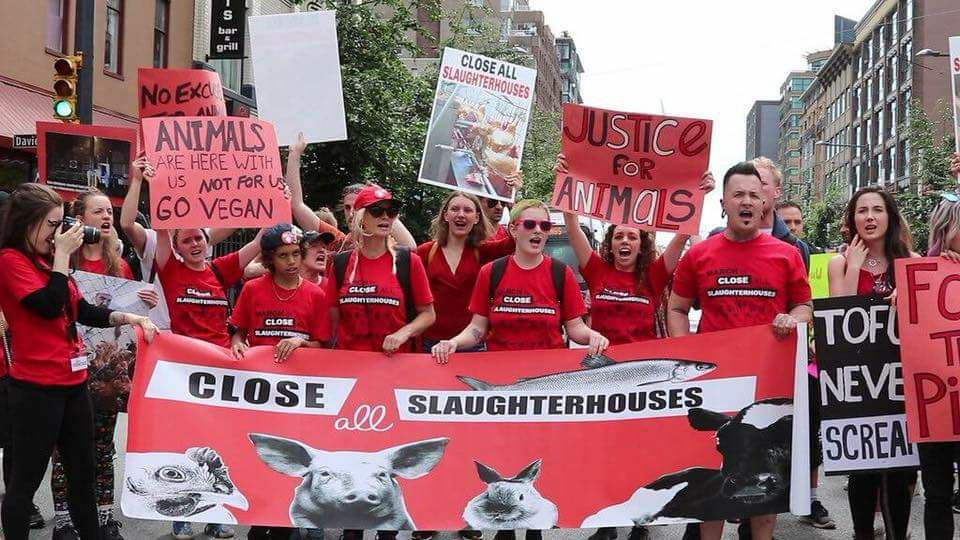 Come out for this family friendly, peaceful march to be a voice for the animals!
On June 8th, 2019 in the Okanagan, BC and around the world, compassionate citizens will hold a peaceful march to demand the closure of all slaughterhouses and to end the violence that we inflict on nonhuman animals. We will be joined by compassionate citizens across the globe who will march in solidarity.
MARCH COLORS AND T-SHIRTS
Our march colors are red and black. We suggest that participants wear a red t-shirt and black bottoms for the event. We encourage you to come early if you need to purchase one of our t-shirts. They are $25 each for adult sizes, $15 for kids.
WHAT TO BRING
1. Signs
We will not provide signs. Please bring yours. They must respect the theme of the march. You can print some or make your own:
- Go Vegan!
- Animals feel pain!
- All animals have the right to be free!
- Abolish animal slavery
2. Instruments
Vegan drums (synthetic), tambourines, shakers, anything else that makes noise and that will help us march to the beat.
DRESS
Wear comfortable attire.
-Please nothing derived from animals i.e. leather, wool, suede, fur etc.
PRE-MARCH GATHERING
Please arrive between 11:30 am and 12:00 pm. (11:00 to 11:30 am if you would like to purchase a T-Shirt) We are scheduled to start marching at 12:00 pm. .
THE ROUTE
The route is approximately 2.5 km long roundtrip. We expect the march to take about 1.25 hour to 1.5 hour depending on the turnout, traffic and walking speed of all participants. Bring water and wear comfortable shoes!
MEMORIAL
At the end of the march, everyone will be invited to participate in the creation of a memorial to the trillion land and aquatic animals slaughtered for food each year.
NONHUMAN COMPANIONS
Participants are strongly advised against bringing nonhuman companions. There will be chanting and noise during the march which may cause stress.
The march is organized by OMTCAS.
For more information contact us:
→ Previous editions: march to close down all slaughterhouses 2018