This year, the march of Amsterdam will take place Saturday, June 16, 2018 - 13:00 to 17:00
Place and hour of appointement: the Dam at 13h00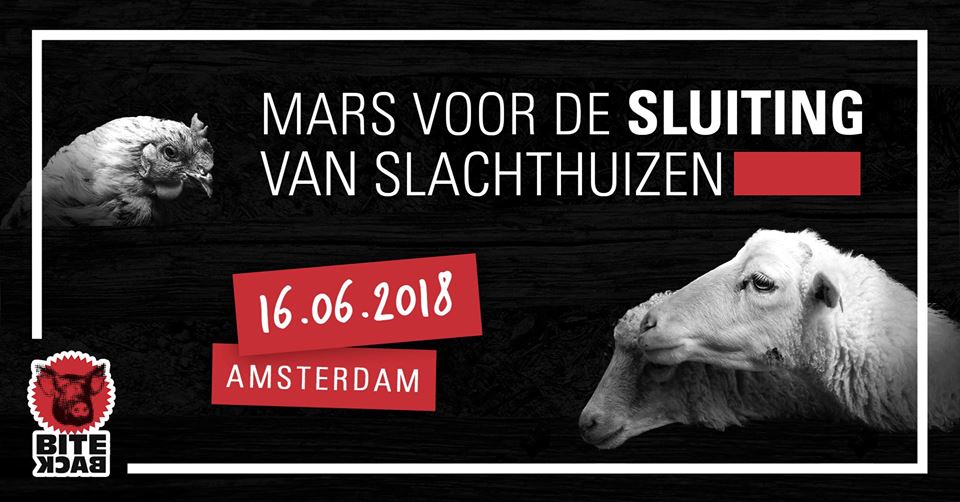 In Amsterdam, the March will take place for the first time on SATURDAY JUNE 16th, 13.00 hours at the Dam, Amsterdam.
Please wear red shirts to improve the visuel aspect of the March. For those who wish, we sell the official shirt of the March (organic cotton, fair trade) at the info stalls.
We will hold a peaceful march to demand the closure of all slaughterhouses and to end the violence that we inflict on non-human animals. It is time now to demand, loud and clear, the end of animal slavery and the abolition of all practices that cause them the most harm: breeding, fishing and slaughter. So we hope to see you all in Amsterdam on SATURDAY 16th of JUNE.
Why we are demanding the closing down of all slaughterhouses?
* BECAUSE meat production involves killing the animals that are eaten;
* BECAUSE their living conditions and slaughter cause them to suffer;
* BECAUSE eating animal products isn't necessary;
* BECAUSE sentient beings must not be mistreated or killed unnecessarily;
Therefore, farming, fishing and hunting have to be abolished.
The march is organized by Bite Back.
For more information contact us: